🇳🇴
Hvert semester må du som student semesterregistrere deg i Studentweb. Studentweb følger vanlig skoleår med høst- og vårsemestre. Det betyr at hver august og januar må du semesterregistrere deg og melde deg opp til eksamen. Når du er registrert vil der automatisk bli bekreftet til Lånekassen at du er aktiv student, og du få mulighet til å få lån og stipend fra Lånekassen.
For å semesterregistrere deg må du logge inn med Feide og klikke på «Start registrering».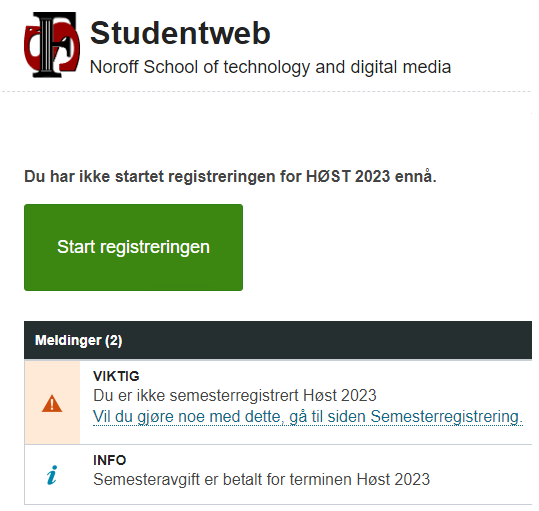 Når du logger inn i Studentweb vil det automatisk stå at du har betalt semesteravgift for terminen. Dette er en bekreftelse på at du er registrert som betalende student, og du bekrefter dette ved å semesterregistrere deg.
Ved å fullføre semesterregistreringen vil du melde deg opp til eksamen i de emnene du skal ta dette semesteret.
Klikk på knappen + Meld til vurdering på de emnene du skal ta dette semesteret.
Dersom den automatiske bekreftelsen på semesterregistreringen sier emner: "Ingen", kan du se bort i fra dette. Det er Studentweb som har riktig informasjon.
På grunn av at fagskoler fortsatt ikke har ECTS vil det stå null studiepoeng på emnene i utdanningsplanen og under resultater. Du vil finne antall studiepoeng i emneoversikten i studieplanen, eller du kan be om en karakterutskrift når du har fått resultater.


🇬🇧
Every semester you must register as a student in Studentweb. Studentweb follows the regular school year with autumn and spring semesters. This means that every August and January, you must register for the semester and sign up for the exams. When you are registered, it will automatically be confirmed to Lånekassen that you are an active student, and you will be given the opportunity to receive loans and grants from Lånekassen.
To register for the semester, log in with Feide and click "Start registration".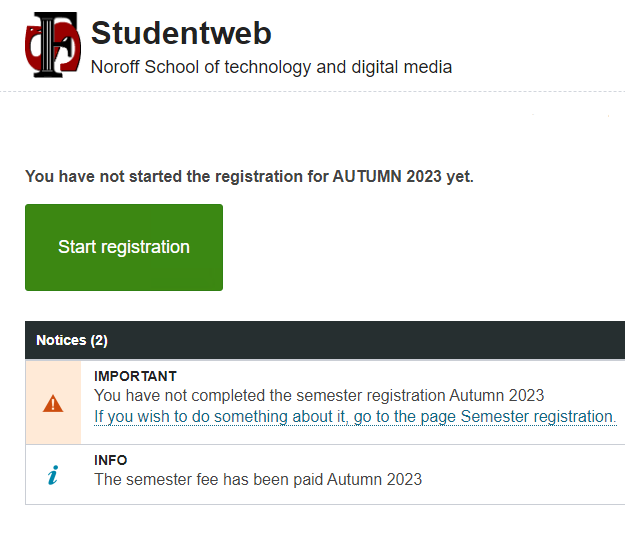 When you log into Studentweb, it will automatically say that you have paid the semester fee for the term. This confirms that you are registered as a paying student, and you confirm this by registering for the semester.
By completing the semester registration, you will also register for the exam in the subjects for the semester.
Click on + Register for exams for the courses listed for the semester.
If the automatic confirmation of your semester registration says courses: "None", you can disregard this. It is Studentweb that holds the correct information.
Due to the fact that Vocational schools still do not have ECTS, there will be no credits for the subjects in the education plan and under results. You will find the number of credits in the course overview in the study plan, or you can request a transcript when you have received your results.